TVT 2
Drop volume tensiometer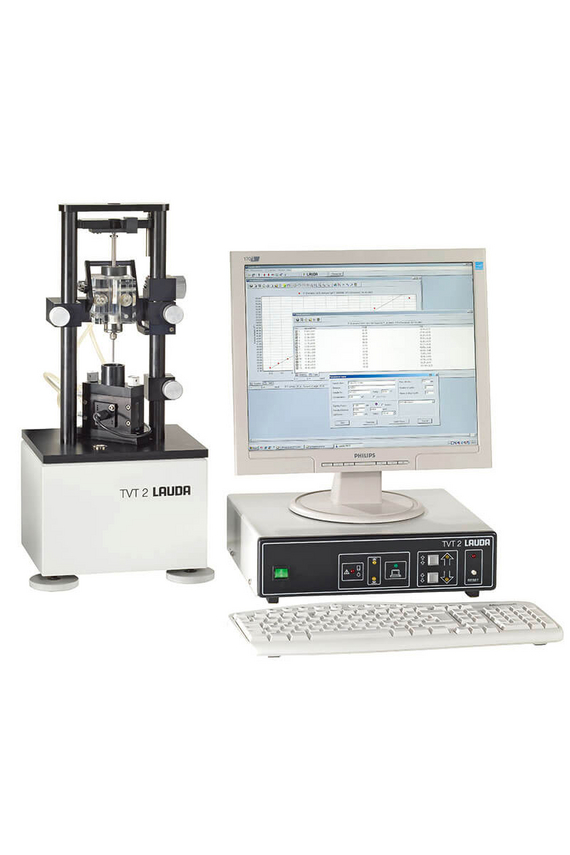 The LAUDA Drop Volume Tensiometer TVT 2 is used to measure the surface and interfacial tension of liquids. Its strengths lies in the high-precision determination of dynamic interfacial tension.
The TVT 2 uses the fact that the volume of a drop released from a needle in air is dependent on its surface tension or on its interfacial tension between the two phases, if released into a second, immiscible phase (oil).
With the TVT 2, this measuring principle has been brought by LAUDA Scientific into a measuring device that is easy to use at the same time, thanks to precision engineering.
Special Features:
Characterization of the dynamic behaviour of surfactant molecules at the surface and interface within seconds or hours
High-precision measuring of interfacial tensions in a very wide range down to very small values (0.1 mN/m)
Measurements on highly volatile and/or toxic substances through gas-tight system sealing
No wetting problems as occurs, for example, with ring, plate and frame methods
Low sample requirements (0.25...5 ml)
Simple thermostating options over a wide temperature range (5...90 °C)
Measurements of rising and falling drops
Syringes and needles for various applications
Highly viscous and skin-forming liquids are easily and rapidly measured
Request our complete catalog
Request our complete catalog "Product range 2022/2023" now. It contains a detailed overview of all products, accessories and spare parts of our viscosity measuring systems, tensiometers and contact angle instruments on more than 80 pages.
Available as digital or printed version in English language.