By specialists for specialists
Since 1967 LAUDA has been developing, manufacturing and selling reliable precision Measuring instruments that have become firmly established worldwide in research, teaching and quality assurance.
LAUDA Scientific is your partner for Measuring instruments for determining the viscosity of polymer solutions, optical contact angle measuring instruments for measuring the free surface energy and the wetting behavior, and classical tensiometers for determining the surface and interfacial tension of oils and surfactants.
For decades, well-known clients from all over the world have come to rely on LAUDA Measuring instruments, which bring together precision, reliability and longevity. Along with its extensive experience in sales and service, LAUDA Scientific provides you with the support you need to successfully complete your tasks.
Employees celebrate tenth anniversary
Philipp Neumann and Frank Schwabenbauer honoured
LAUDA Scientific honours the tenth anniversary of two employees: Sales Manager Philipp Neumann and Frank Schwabenbauer both celebrate their anniversary at LAUDA Scientific.
more
LAUDA Scientific presents contact angle measuring instruments at ACHEMA
Measuring instrument manufacturer presents expanded product portfolio
In April, LAUDA Scientific GmbH announced its new viscometers, tensiometers and contact angle measuring instruments.
more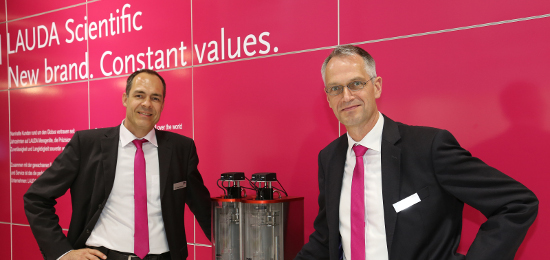 Support that is personal and tailored to your needs
LAUDA Scientific stands for precision and reliability. Together with our representatives and our worldwide sales partners, we provide excellent service and logistics – for the perfect operation of your Measuring instruments as well as personal assistance for all application-specific issues, before and after purchase.