TD 4
Fully automated ring / plate tensiometer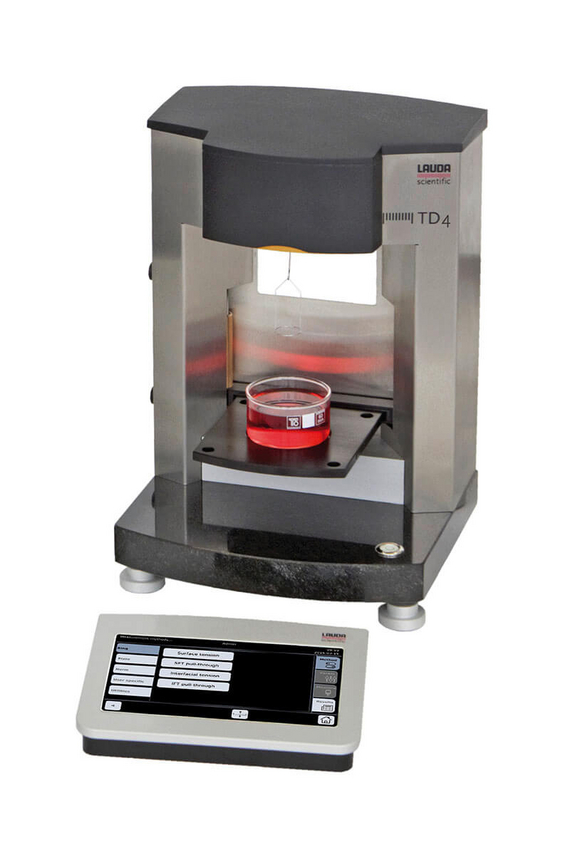 The LAUDA Scientific TD4 is an fully automated stand-alone tensiometer for research and quality control. Wherever surface tension and interfacial tension measurements according to the Du-Noüy ring and Wilhelmy plate methods is needed – the TD4 is just doing that according to international standards. It is used in the field of transformer oils, in cleaning processes, in the beverage industry and in many other areas. Its precise load cell, position sensor and sample stage motor makes the TD4 a perfect match when an easy-to-use instrument with high precision is needed. Due to its motor driven stage the TD4 with its measurement templates offers user-independency and high resolution, even at low interfacial tensions.
Special Features:
Wide measurement range up to 300 mN/m (0.01 mN/m resolution)
User-independent measurements with automatic maximum detection and sample stage movement
Automatic Zuidema and Waters correction for precise correction of Du-Noüy ring measurements
Precise, high-resolution distance measurement for exact measurements with the Wilhelmy plate method
User-friendly due to an innovative measuring assistant including predefined standard methods
Intuitive touch-based graphical user interface with integrated user management including different user levels to meet GLP requirements
Optional temperature control without additional bench space requirements
| | |
| --- | --- |
| Surface tension measuring range | 0...300 mN/m (ring), 0...999 mN/m (plate) |
| Surface tension resolution | 0.01 mN/m |
| Density resolution | 0.002 g/cm3 |
| Weighing system resolution | 0.1 mg |
| Table movement | Automatic |
| Ring correction | Automatic (acc. Zuidema and Waters) |
| Predefined methods in acc. to | ASTM D971,EN 14210, IEC 62961, EN 14370, EN 14059 and more |
| Temperature range | 10...40 °C |
| Temperature range with PTT+ | 5...80 °C |
| Dimensions (W x D x H) | 245 x 205 x 335 mm |
| Power consumption | 10 W |
| Weight, net | 11 kg |
Request our complete catalog
Request our complete catalog "Product range 2022/2023" now. It contains a detailed overview of all products, accessories and spare parts of our viscosity measuring systems, tensiometers and contact angle instruments on more than 80 pages.
Available as digital or printed version in English language.